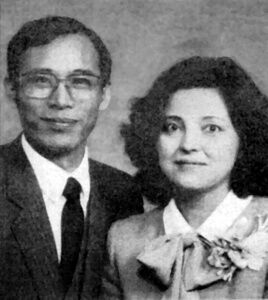 President Yasuo Niiyama
Address not available

Email Not Available

Spouse: Tomiko
Served: 1987 - 1990
Associated Alumni
Comments:
LDS Church News
Week ending March 21, 1987

Yasuo Niiyama, 42, assigned to the Japan Sendai Mission; Mitaka Ward, Tokyo Japan Stake; stake president; former region executive secretary, stake executive secretary, high councilor, and bishop's counselor; served mission in Japan, 1963-65; owner of language and international business training firms; received bachelor's and master of public administration degrees from BYU; born in Kobe City, Japan, to Yoshio and Tsujiko Murakawa Niiyama; married Tomiko Moulton; six children. She is Primary teacher, former ward Primary and Relief Society president, and Relief Society instructor; born in Sendai, Japan, to Arlo and Eiko Hatakeyama Moulton.

© 2001 Deseret News Publishing Co.
Modified: 2003-10-09
外国人教師被害者の会
English
マリカ・サイト
外国人英語教師たちが、こんなにまで
インタレック
を悪く言っているとは、今日まで まったく知らなかった。 外国人教師専用のサイトがいくつもあるそうで、そこで、みんな自分の経験した 苦い思いを吐露している。 チクったら最後、生活ができなくなるとの恐怖から、教育委員会や、文部省に直接 文句を言う人がいないのだろう。 外国人教師一人に対し、月額1名55万円が税金で用意されているのに、教師には 25万円、それも、8週から11週遅れで支払われていると知ったら、納税者は怒るだろう。
教育はなによりも大切な優先事項。
教育に使うお金は正しく使われないといけないのに、行政委託業者の実態はひどい。
外国人教師に、利息をとってお金を貸すのは、違法行為。
(平成17年2月27日)
m/jobinfo/asia/sefer.cgi?display:1036120754-16454.txt
http://www.gaijinpot.com/bb/showthread.php?t=9591
http://www.japantraveler.com/issues/0003/tidbits.html
Interac Inc. misses salary payments -
Japan Traveler has learned that salaries for Kanto-area teachers were not paid on time in February. Interac had notified teachers that only 40 percent would be paid on Feb. 14 and the remainder at the end of the week. But Interac paid nothing or very little on the 14th and only a small portion on the 18th when the remainder had been promised. The teachers we spoke with have since been paid their full salaries due in February, but Japan Traveler was told this has been an ongoing problem inside the company with it rotating the late payments to different areas of Japan on different occasions. Our sources said the Japanese Interac staff had been waiting longer for their salaries. While the salaries remained unpaid, Interac had a large help-wanted ad in The Japan Times for new teachers, and the company did not respond to our facsimile addressed to
the President, Yasuo Niiyama,
and telephone call asking for an explanation. Japan Traveler subsequently learned that Interac had been successful, by means of angry threats of lawsuits, in getting at least two Internet Web sites to remove postings from teachers discussing problems at the school, including claims for massive amounts of unpaid pensions contributions for Interac teachers.
http://www.eslcafe.com/forums/job/viewtopic.php?t=17473&highlight=interac
http://www.eslcafe.com/forums/job/viewtopic.php?t=9614&highlight=interac
http://www.eslcafe.com/forums/job/viewtopic.php?t=9559&highlight=interac
http://www.eslcafe.com/forums/job/viewtopic.php?t=14684&highlight=interac